Publications:
---
Tracking is Trending: A Survival Guide to Assessment in Student Affairs
March 14, 2016
Kim Irland (Series Editor), Juhi Bhatt (Editor), Alex Fields (Editor), Sabina De Matteo (Editor),Tom Krieglstein (Editor), Sue Caulfield (Illustrator)
Assessment can be a daunting task for any student affairs professional. If you want to know where to begin, what you should know, and why you should know it, sift through this collection of tips and examples from professionals in the field. A simple, quick read, this book will give you the jump-start you're looking for to be even more amazing at what you do.
"It Starts With Curiosity" by Lesley D'Souza – pp 51-56
"Data as Storytelling" by Lesley D'Souza – pp 65-70
"Assessment is Here to Stay" by Lesley D'Souza – pp 84-89
CACUSS Communique Magazine, In Her Shoes: Women and Work/Life Balance in Student Affairs, Winter 2012
Lesley D'Souza & Jen Gonzales
"Let's flashback to 2010, where two female colleagues at Ryerson University were grappling with a previously unspoken dilemma. We had reached a critical point in our careers. We had worked professionally for about 6 years and were cresting beyond our identities as new professionals, already having a number of positions, degrees, and professional development under our belts. We were now entering the phase of our lives where peers were beginning to settle down; marriages, baby showers, and housewarmings frequently marked our calendars. It began to cast a harsh light on our commitment to work; evenings and weekends spent on campus, and limited time to spend on our own wellness. This feeling of being stretched had increased over the previous two years, and as we struggled to find the source of these anxieties, a picture began to form of the unique set of challenges we faced as female professionals."
Media
---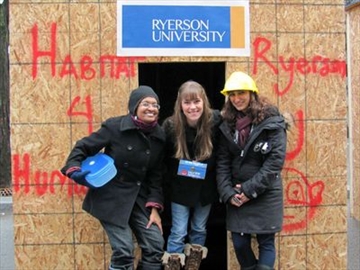 Ryerson Students Spend Night on the Street to Raise Awareness, Feb 1, 2012, Inside Toronto
Students from three Toronto post-secondary institutions took to the streets Jan. 27, sleeping outside to raise awareness and funds in support of affordable housing.